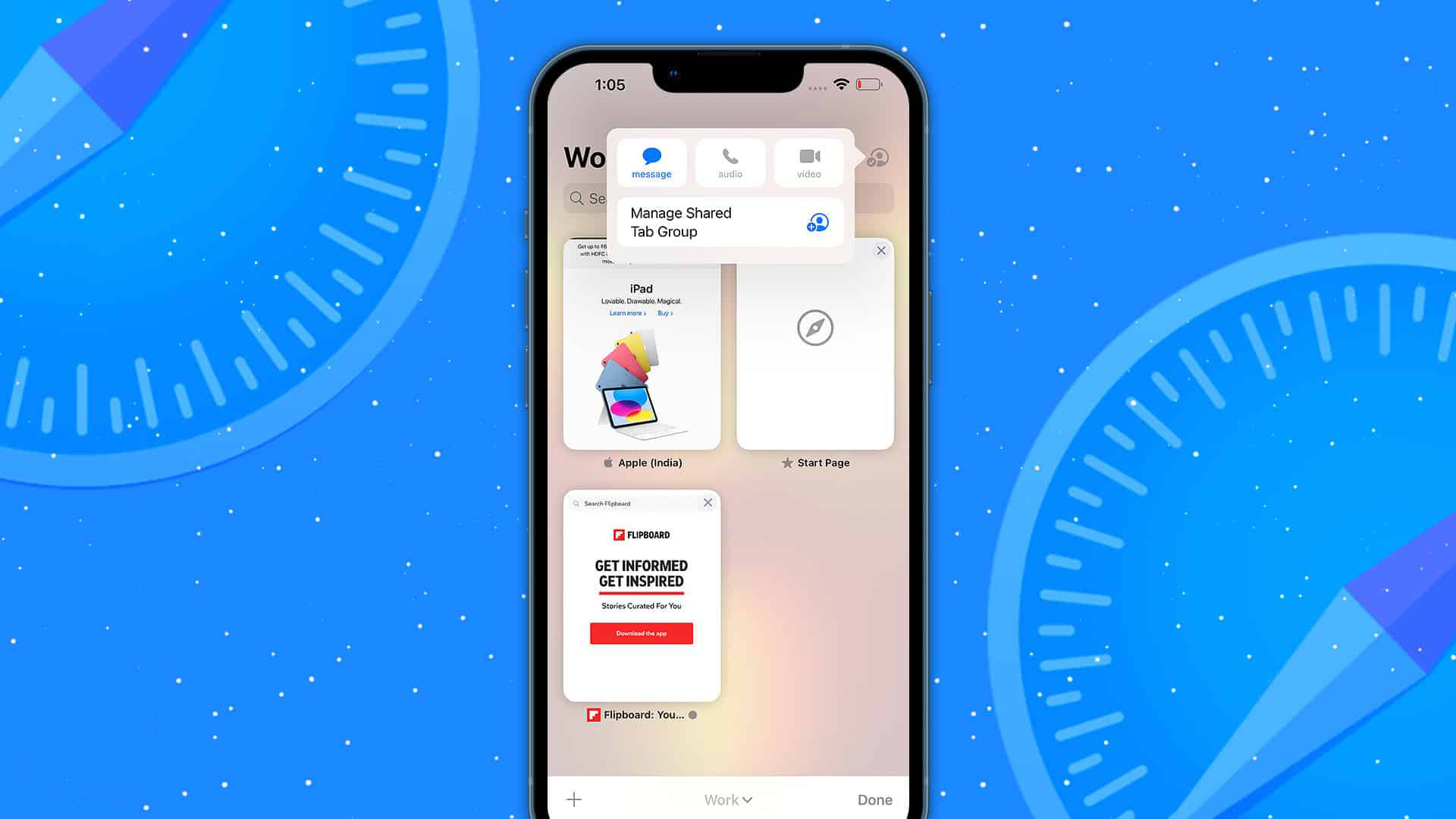 35+ Safari tips and tricks for iPhone in iOS 16
In addition to the Health and Clock apps, you can also use your Apple Watch to turn off alarms and delete sleep schedules. To do that, open the Sleep app on your Apple Watch. It looks like a turquoise bed. Then, click the Next button next to the displayed schedule to change your next alarm.
Tap the Full Schedule button if you want to change your sleep schedule for good. Here, you can change your Sleep Goal or a schedule you already have.
1. Share Tab Group to collaborate
Tap the tabs icon on the page you're on.
Then, click the share icon in the upper right corner.
Go to the top of the tabs if you can't see it.
Lastly, tap Messages on the share sheet to send a Tab Group to the person you want to share it with.
For now, the only way to invite people is through the Messages app.
2. Change the background of your Tab Group
With iOS 16, you can change the start page of your Tabs Group to change how Safari looks. This iPhone Safari trick lets you set a custom background, which is similar to adding Favorites to the start page.
Go to the home page and scroll down to the Edit button.
Now, if Background Image is turned off, turn it on and choose a wallpaper.
You can also use images from the gallery by tapping the plus sign (+).
3. Check recently closed tabs for each Tab Group
Go to Safari's home page from the Tab Group you already have.
Move down and click on Edit.
Turn on the Recently Closed Tabs switch. It will add a section to the group for closed tabs.
4. Add Tab Groups to your Focus mode
In iOS 16, Focus mode has been improved and made better. It now has something new called Filters. With it, you can limit and restrict other tabs and only see a certain group of Safari tabs.
Tap Focus in the Settings menu.
Now, choose a mode for focusing. I chose "Do Not Disturb" here.
Then, move down and tap the plus (+) sign next to Add Filter.
Then, choose Safari from the list of apps in the App Filters.
Tap Choose next to Tab Group in the next window.
It will show you a list of all the Tab Groups you have. During Focus mode, choose the one you want to use.
Lastly, tap Add in the upper right corner.
You can also pin tabs in Tab Groups and add Favorites to the start page of each Tab Group. Check out our full guide for more Tab Group hacks like these.
5. Find on Page feature
When you need to search a website, Safari's Find on Page feature comes in handy. In iOS 16, Apple changed this tool.
Open a website and press and hold on a word or phrase.
You can now see a context menu that has a new option called "Find Selection." If you tap on it, the phrase will be highlighted across the page, and it will tell you how many times it has been used.
6. Image translation for websites
Safari has always been able to translate images, but not always in the right way. Live Text was broken, but Apple has fixed it.
Press and hold on the picture you want to translate.
Then tap Show Text, followed by Translate. Instead of bringing up an action page with the translation, it will just change the text on the picture.
7. New language support for Safari webpage translation
You can also translate a webpage in Safari, as well as images. With the iOS 16 update, Safari translation now works with a new language. So, you can now translate websites with text in Arabic, Dutch, Indonesian, Korean, Polish, Thai, Turkish, and Vietnamese.
8. Passkeys for enhanced security
When you log into your accounts on websites or apps with iOS 16, you will use your passkeys instead of your usual passwords. So, you will be safe from data breaches, phishing scams, and attempts to figure out your password.
With Passkeys, you can create or log into an account without typing in a password. Instead, you will use Touch ID or Face ID to verify your identity. So, it will make unique public and private keys that are linked to your biometric authentication.
The private key will be stored in your iCloud Keychain, while the public key will be kept on the website's servers. The best part is that no one can see the private key, not even Apple. It will, however, sync with all of your other iCloud devices, making it easy to sign in from anywhere and on any device.
9. Easily copy subjects from images
Visual Look Up is a new feature of iOS 16 that can also be used in the Safari app. So, you can drag things right out of pictures on the website. Just hold it down for a few seconds and tap Copy Subject. So, you can copy any picture from the Internet and remove its background. Also, you can paste, save, or drop the cutout anywhere on your iPhone.
10. Edit suggested strong passwords
You already know that Safari makes strong passwords when you sign up for a website account with it. But some sites have rules about how to make a password. Don't be afraid! I know some ways to solve this problem. iOS 16 lets you make strong passwords when you need to.
When you start making an account on any site, a pop-up window will appear. Tap Other Options there.
Now, a menu will show up where you can choose your password or choose Edit Strong Password. In the site's password field, you can choose to make your own password or change the one that was suggested to you.
11. Get push notifications from websites
This Mac feature is finally coming to the iPhone. Every time you go to a website, you'll be asked if you want to get push notifications from that website. It's not available right now, but I think Apple will add it in the iOS 16 updates of 2023.
12. Safari extensions synchronization
Let's say you've added a Grammarly add-on to Safari. But if you use Safari on a Mac, you have to reinstall the extension. The good news is that Safari extensions can now be synced across all of your Apple devices with iOS 16.
Open Settings. Extensions can be added to Safari.
Then turn the Share Across Devices switch on. (Even though it's already turned on)
Here, you can also see all the extensions you've added to your iPhone. Besides, the On Other Devices section lists extensions that aren't on your device. So, you can just download them, since your iPhone must already have the apps for those extensions.
13. Sync website settings on all your Apple devices
You can sync your website settings across devices, just like you can with extensions. So, you only have to set up options like Page Zoom, Request Desktop Site, Reader, Content Blockers, Camera, Microphone, Location, and Page Zoom once.
Click Settings and then Safari.
Then, under Settings for Websites, scroll down and turn on Share Across Devices.
14. New Shortcuts actions
With iOS 16, Apple has added new Shortcut actions to Safari. See the list below:
Find Bookmarks
Open Bookmark
Open View
Set Safari Focus Filter
Find Reading List Items
Open Reading List Item
Create Tab Group
Find Tab Groups
Open Tab Group
Close Tab
Create New Private Tab
Create New Tab
Find Tabs
Open Tab
15. Skip CAPTCHAs when browsing
Open Settings → tap your name (Apple ID).
Choose Password & Security from the next window.
Scroll to the bottom of the page and turn on Automatic Verification under Safari's Advanced settings.
16. Haptic touch (Safari app icon)
Just touch and hold the Safari icon to quickly access things like your reading list and bookmarks, or to open a new tab right from your iPhone's Home screen.
It's pretty good, and I like how this is put together. So, give it a try to move faster into the action. (Punch line)
17. Take a sneak peek
The next option is to preview a page and get several useful options without leaving that page.
Touch and hold a URL to see what a page looks like. Then, you can swipe up to see options like "Open in Background," "Add to Reading List," "Copy," and "Share."
18. Paste and go & Paste and search
To be honest, this tip seems pretty simple, but I don't think everyone knows it. And that's why I added it to this list. When you have a URL copied to the clipboard, touch and hold the address bar, then press and hold the Paste and Go button.
In the same way, you can use this trick to find anything faster. Touch and hold the address bar after you've copied some text. Then, click Paste and Search. So, that's it!
19. Easily type Top-Level domains
Next up, I'd like to show you a quick way to enter top-level domains in the search bar. Just touch and hold the tiny "." period button on the bottom row of the keyboard. Then, depending on where you are, you can choose from top-level domain extensions like.com,.net, and.org.
This is just the tip of the iceberg, as the stock QuickType keyboard has many tricks up its sleeve.
To discover more about such cool keyboard tips, check out our hands-on guide.
20. Jump back to the top of the page
You've reached the bottom of an article you're reading. How would you get back to the top of the page quickly? by going up the page? That won't get you anywhere.
Double-tapping the status bar at the top of the screen is the smarter way to get it done. It works well and makes it a bit easier to surf the web. Really.
21. Set a reminder to look at a page at a specific time
Did you know that Siri can remind you to look at a website at a certain time?
Just invoke Siri and say something like, "Remind me to look at this page today at 9 P.M." Siri will tell the user that it will do the task.
Now, you will get a reminder at the set time to check out that article. Tap on it, and you will be taken to the Reminders app. Then, click on Safari to go to that page. I use this feature a lot to read my favorite articles when it's convenient for me. I would also suggest that you use it because it is easy to use.
22. Quickly access forward/backward history
You've gone through a lot of pages while surfing the web. Now, you might want to get to all the history quickly. What will you normally do? Tap the back button again and again.
No, that's not the better way to go about it. Touch the back button and hold it down. Now, you'll be able to look at all of your past histories. In the same way, you can see all of your forward history if you touch and hold the forward button. So, remember to use this cool trick the next time you want to go back and forth while browsing the web.
23. Play a video in the background
This tip is for you if you like to listen to music while you surf the web.
Press the Home button or swipe up from the Home bar while a video is playing in Safari. The video will now stop. Bring up the menu for the player and press the play button. In the background, the video will start to play again.
Keep in mind that this feature is not supported by YouTube. But there are some ways to get around this problem. Check out our hands-on guide to see how they work.
24. Load the desktop site
Not every site is set up perfectly for mobile devices. I'll be honest: I've seen a lot of websites that are hard to read on a mobile device. There is thankfully a way to ask for the desktop version of a site.
To do this, just tap the AA icon in the address bar and choose Request Desktop Site.
Boom! Safari will show you the site right away in its desktop form. You can get back to the mobile site the same way you did before.
25. Change the default search engine
Safari is set to use Google as its main search engine. But you are free to change it whenever you want. Just do the following:
Start the Settings app and then click on Safari.
Then tap the Search Engine button. You can now use Google, Yahoo, Bing, DuckDuckGo, and other search engines. So, choose the one you want to use, and you're ready to go!
26. Rearrange tabs
I like to keep my tabs in the right order, especially when I'm doing a lot of research. This makes it easier to get to the ones I want. To move tabs around:
Click the tabs icon in Safari to open it.
Now, you can see all of the tabs you have open. Just touch and hold one, then move it to the top, bottom, or wherever you want.

By doing this simple thing, you can keep all of your tabs in order.
27. Search specific tabs on Safari
The next tip I'll talk about is how to search in certain tabs. Save it for when you have a lot of tabs open and want to quickly go to one of them.
To do so:
To find the Search Tabs bar, click the tabs icon and then scroll up.
The next step is to type in the name of the tab you want to find. For example, if you type in iGeeksBlog, it will show you all the tabs that go with it. That's really cool!
I don't think most of you know about this secret way to close all the tabs that have been searched. To be honest, I didn't know about this hack until I found it a few days ago.
Just touch and hold the Cancel button, and you'll see an option to close all the tabs for a certain site. Just tap it, and all of the tabs for that site will disappear.
28. Close all tabs at once
If you've been on the web for a long time, you might want to close all of your open tabs so that people can't see what you're doing. Touch the tabs icon and hold it down. Then just tap Close All Tabs, and you're done! There won't be any open tabs left.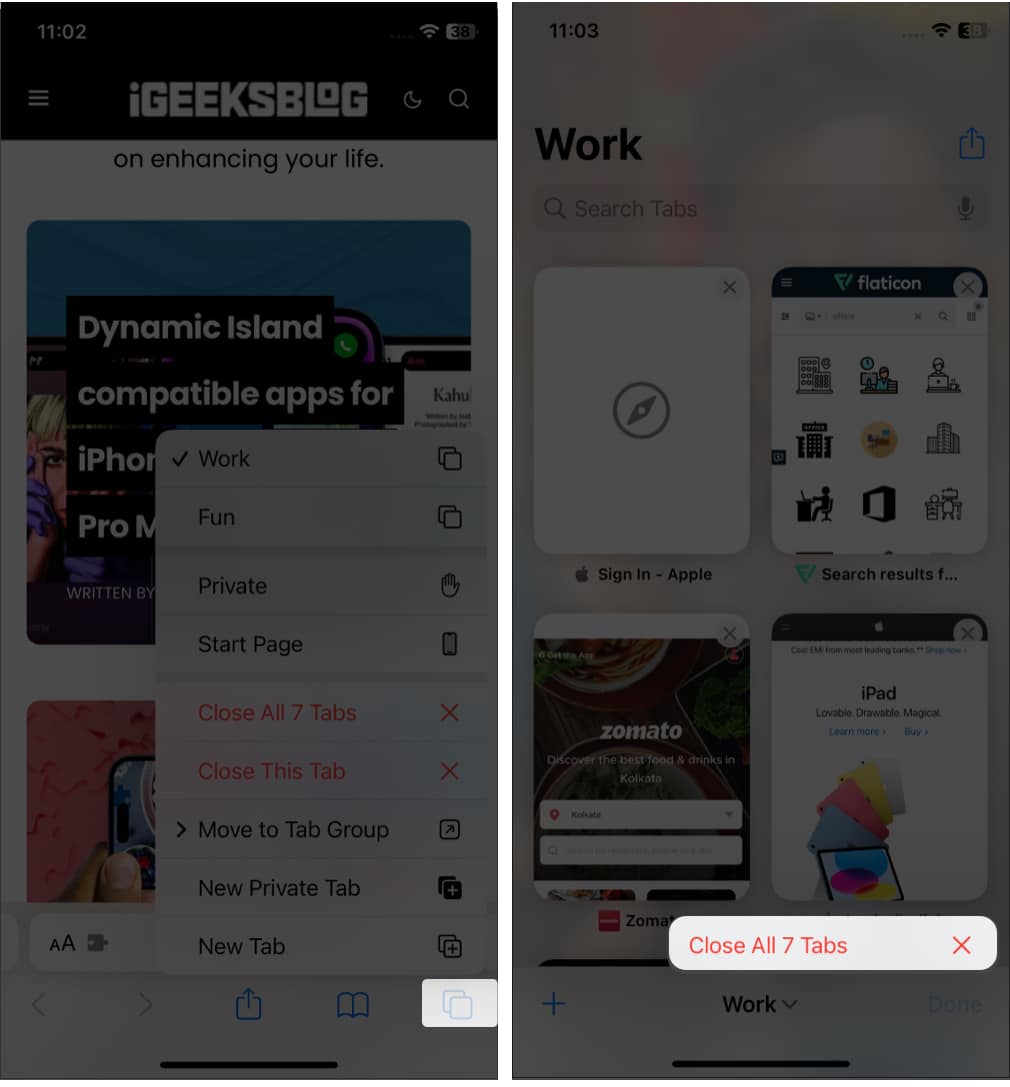 You can also just click once on the tabs icon. Then press the Done button for a long time. Tap Close All Tabs to get rid of them all.
29. Reopen Recently Closed Tabs
After I closed all the tabs, I would sometimes remember that I needed to look at some of them. And that's when this tip came into play.
To reopen tabs you just closed, touch the tabs icon and then touch and hold the plus (+) button. Now, you'll see a list of all the tabs you recently closed.
Then, choose the one you'd like to use. Isn't it really helpful?
30. Open Incognito tab
Safari has a mode called "incognito" that lets you search the web in private. The best part is that when you switch to this mode, the web browser won't save any of your information.
To turn this mode on:
Press and hold the tabs icon.
Now, select Private or New Private Tab. When you are in private browsing mode, it will send you back to the home page.
There's more than one way to stay hidden. Tap the name of your Tabs Group on the Tabs View screen. Then tap Private, and then tap Done to confirm. When you want to turn off the private browsing mode, you just need to do what I just said. And the mode for browsing the web in general will be back.
31. Clear cookies and history
Next, make sure to clear out cookies and history every so often so that the app doesn't get too crowded. And it can keep other people from guessing what kinds of things you are looking at right now.
Go to the Settings app and click on Safari to clean it up. Then scroll down and tap twice on Clear History and Website Data.
Now, your browsing history will no longer be saved.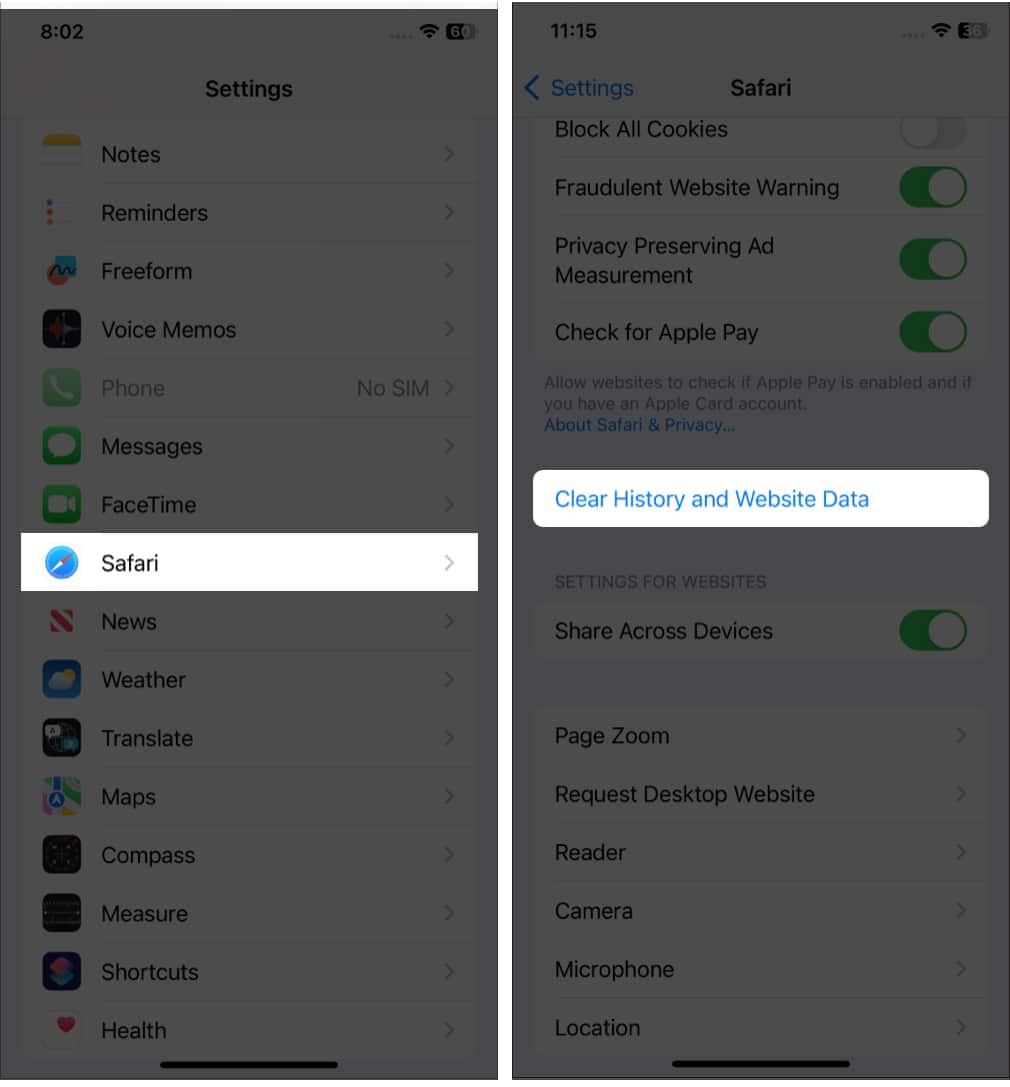 32. Manage all of your saved passwords
Trust me, keeping track of passwords on iOS has never been so easy and smooth.
To manage your passcodes:
Tap Passwords in the Settings app.
Next, you have to prove who you are. After that, you'll be able to see all of your accounts.
Tap the one you want to work with. Tap Edit in the upper right corner.
Next, make any changes you want and tap Done to finish.
33. View saved passwords using Siri
Siri makes it very easy to see passwords that have already been saved. Say, I want to get into the Facebook account passwords. I'll call up Siri by saying something like, "Show my Facebook passwords."
Now I need to make sure my device is real. Once that's done, I'll use the saved password to get into my Facebook account. I told you, it's very useful.
35. Quickly enter Verification Codes
Thanks to Two-Factor Authentication, the latest version of iOS has made it very easy to enter verification codes.
To fill the confirmation box, all you have to do is tap the text field and tap on the code that comes in. That is really very easy to use.
36. Change default Password AutoFill provider
Even though Apple's iCloud Keychain works well, it's great to use third-party apps. Make sure you've already installed and set up your favorite password manager before you try to change the default password AutoFill provider.
Tap Passwords in the Settings app on your iPhone.
Now log in and click on Password Options.
Under Allow Filling From, you will see a list of the compatible third-party password managers that you have installed on your device. Choose the one you like best and follow the instructions to verify it. Then you're done!
37. Convert a webpage into a PDF
When I come across an article while surfing the web, I like to save it to my own collection. The option to turn a web page into a PDF comes into play at this point.
Say I want to turn a website into a PDF.
Tap the Share button, and in the share sheet, choose Print.
Then, tap the Share button again, which is above the Print Options button.
Finally, I will choose to Save to Files .
You can also use the Markup tool to add notes to the file and save it to the Files app. That's a pretty smart thing that iOS can do.
38. Quickly add any article to your reading list
This tip is for you if you like to read a lot. If you want to save an article to read later, do the following:
Touch the book icon and hold it.
From the menu, choose Add to Reading List.
Tap Save Automatically if you want to save it so you can read it later when you're not online.
39. Make the most of Reader Mode
Last but not least, Safari has a useful mode called Reader Mode that makes it easier to read.
Tap the AA icon in the address bar.
Next, go to the context menu and choose Website Settings.
The last step is to switch on Use Reader Automatically.
So, when you look at that website, it will get rid of everything that isn't needed to make it easier for you to read the article. Not only that, but you can also tap the text button and choose from different fonts and themes to make reading even better.