ASMR - Brain Tingles
Sounds - Magical Sleep & Relax - White noise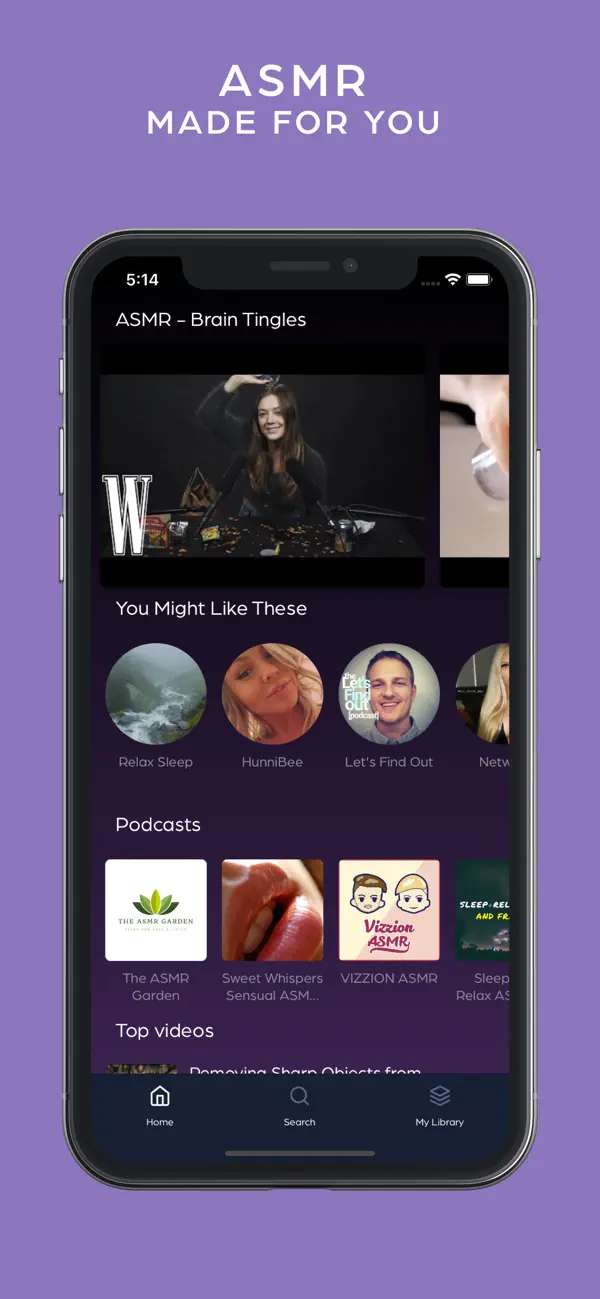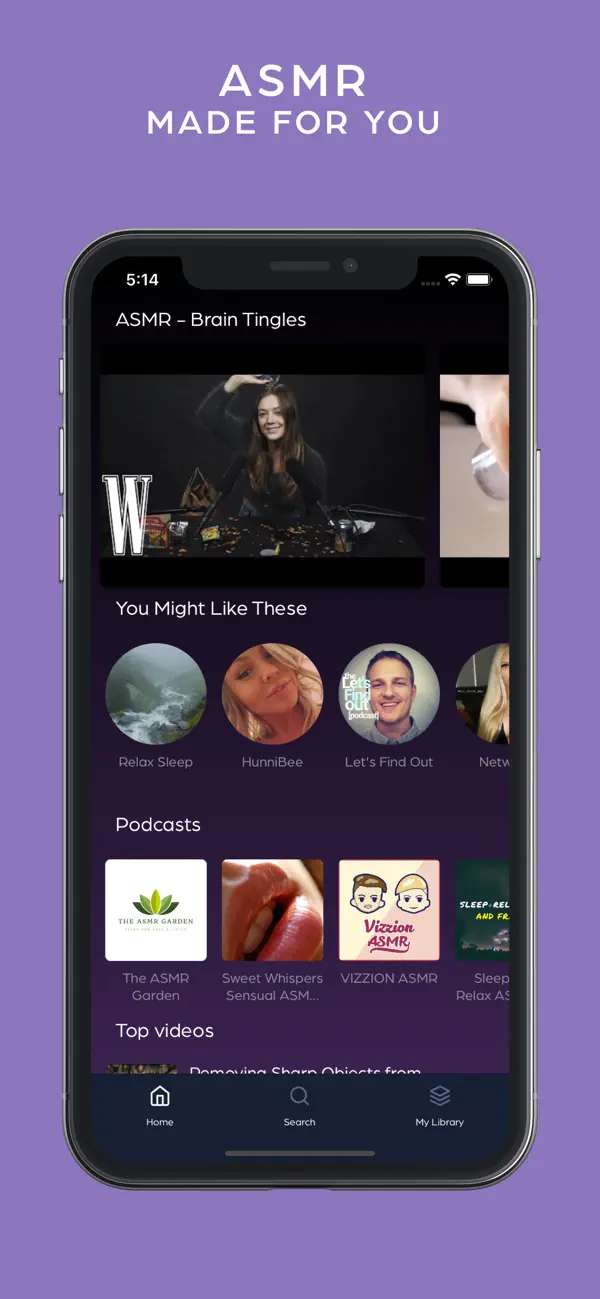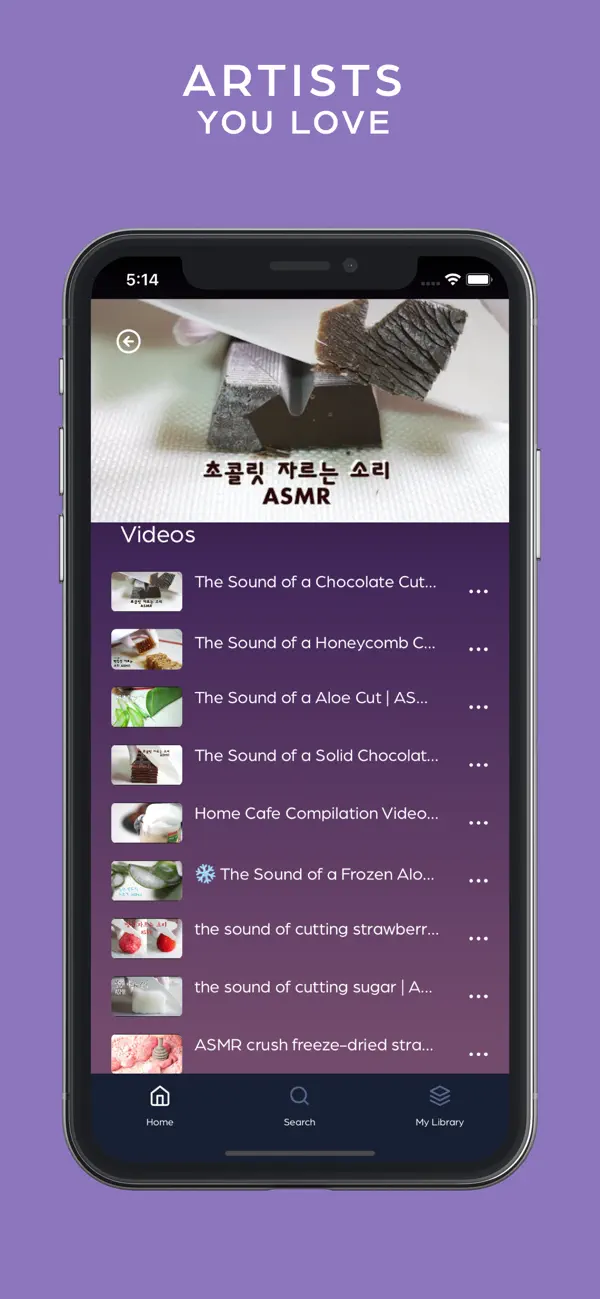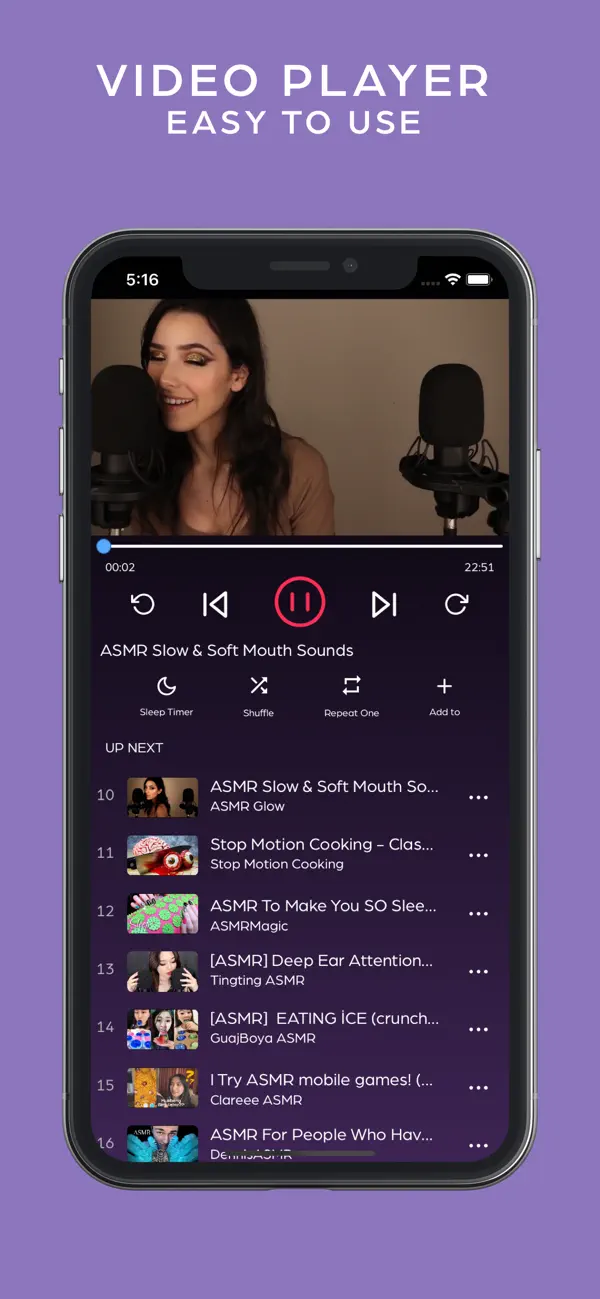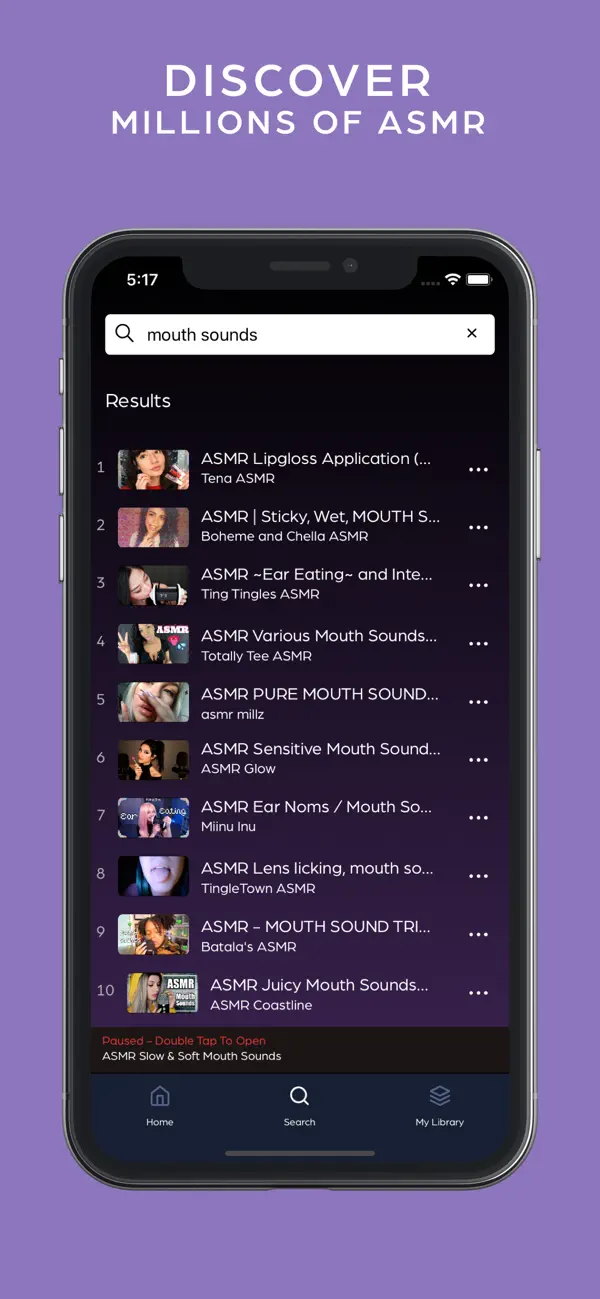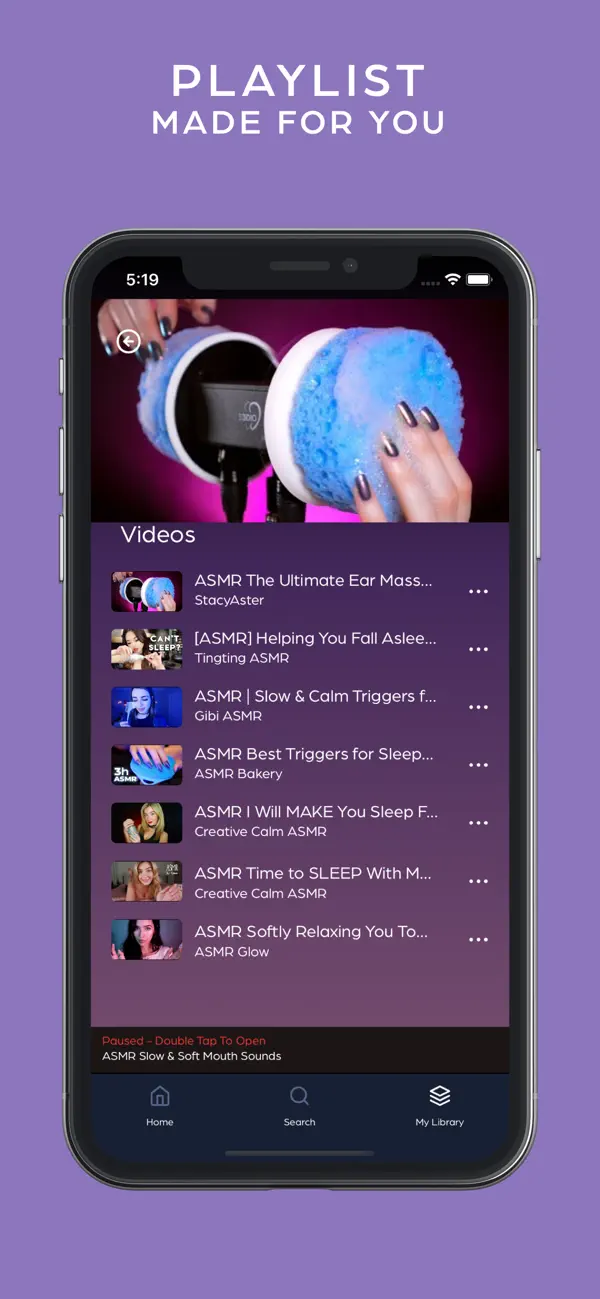 Seamlessly listen to millions of free ASMRs.
Seamlessly listen to millions of free ASMRs.
Quick Search - suggest keywords while searching.
ASMR, artist, album, mashup, EDM, remix...
Browse dynamic Top100 list - get all the hits worldwide and in your country.
Support control center and background playback
Browse familiar ASMR categories.
Get inspired with personal recommendations
Browse trending videos list - never miss a good fresh tune.
Easy to browse ASMR trending, news...
Add ASMRs to playlists very quickly.
Build your own ASMR library
Let you stream and organize ASMR, build playlists, share ASMR with friends, and more. IT'S FREE! Download App Now!
• Search for any ASMR, artist, ASMR, album, mixtape...
• Trending and Featured playlists update everyday.
• Quick Search - suggest keywords while searching.
• Watch high quality HD ASMR videos.
• Repeat and shuffle ASMRs.
• Background playback.
• Lock screen playback controls.
• Share ASMR with friends.
Sounds - Magical Sleep & Relax - White noise
User Reviews : "BEST ASMR EVER I use asmr,rain sounds,or piano music to sleep."
Every feature you need The Brain Tingles app is the easiest to use asmr app with every feature needed for a nice experience. Background audio, sleep timer, and ability to save videos as favorites. I've been looking way too long for an app of this quality for asmr.
I love it but... This is the best one ever but can you do an iPad version plz thanks Edit: why does every time now i want to delete a Asmr video from my library the app kicks me out, pls fix this
BEST ASMR EVER I use asmr,rain sounds,or piano music to sleep,THIS HAS ALL U WILL EVER NEED TO GO TO SLEEP! It has all peoples asmr on YouTube including Gibi asmr,jojo asmr, exc. I think if u need asmr or rain or piano music exc. GET THIS APP!
CHANGE THE RATING!!! Please change the rating I love your app and it really helps me sleep but I'm not allowed to have 17+ so please please change it
ASMR I can finally make a playlist of my favorite asmrtists which is amazing. They have every ASMRtist who u listen to and it is free.
Great choice to save money Great app. Much better than apps like Tingles which charges you a good deal of money. The only flaw is that I can't tap to see all contents by a specific ASMRtist.
Olivier E. P. C. Messiaen
User
Best asmr app out there This app has all of the best creators and best tingles not only that but has no tricks or fees just good old asmr videos and I love all of the extra features love it
This app is magical literally! So at first I use to listen to asmr just on YouTube but the I got the idea to use it while playing games, like I do with music, I went to "Apple Music" to search for asmr and there was a few but if your picky like me you would've hated it there were barely any good choices! So my next idea was to go to Spotify don't get me wrong Spotify had all the good asmr videos but the only thing wrong was the ads, the would constantly appear randomly so I went to search out for asmr apps, I was scrolling until I came across this app which changed my view, I wanted to test it so that's exactly what I did, you can literally listen to ANY asmr on this app while being on a whole other app and also while your phone is off, it also introduced me to asmrtist I've never heard of- wow, but that's not even the best part, everything is FREE like go off! 💅 best app ever tho seriously you have to get it!
Great app I love the app bc it's free, I will keep using as long as it's free, but the ads do get annoying sometimes
A+ A+
Great App So, after my phone miraculously stopped working after dropping it into Lake Superior, I decided to use my old iPhone from 2013, and then I discovered this app, which is one of the best app you can get on this App Store for free. I honestly can't tell you how many nights this app has helped me. Great app, minimum number of ads. Definitely recommend.
Why... Why did you change it to 17+ I can't get it now and I had stuff on there to watch offline so can you change it back plz
y'all dude this app is so dope. my mom put screen time on my phone so i can't download youtube and go on safari past 11 so this app is basically like a youtube. you can access asmr videos or hit the "all" button and access hella other videos. and y'all they really do listen to the suggestions you guys give cus they removed the loud adds. i think the skip forward n go back buttons should have a specific time on them like 15 seconds or so. that update would be so helpful. but overall the app really is great.
all da gud niknames r taken
User
Amazing Very great to help with sleep
Very great app!❤️🧡💛💚💙❤️ I used the app timgles but you need to pay for it..but i found this app! It has ads but they are pretty short and the ads i get are skippable! I use this to fall asleep so if my phone turns off it will keep playing,and it had almost every video! Of asmr! I enjoyyy this app and recommend it! More than the app tingles. Also i use this as a white noise and distracting sound to focus when im reading!❤️🧡💛💚💙💜 my thanks to the creator,Who made this free <3(IF YOU DONT WANNA HEAR THE ADS MUSIC OR SOUNDS GO ON SILENT MODE/NO RINGER)
denki kaminari(s) gf
User
Great app! I like this app it is relaxing and calming and you don't have to pay the sound quality is amazing and I only had this for 1DAY but I know for sure this is a great app!
Stop working It works fine but up until today after the update the app won't load any video pls fix soon