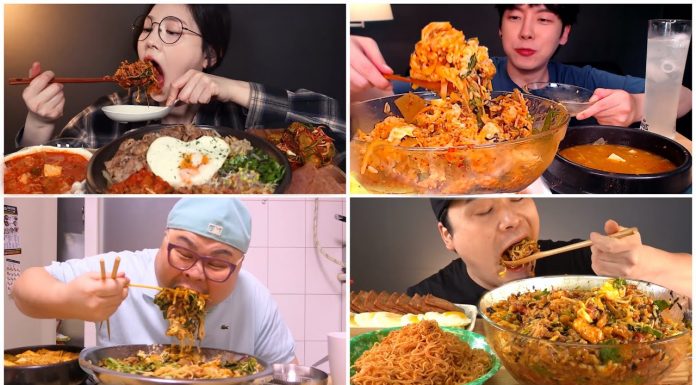 How do popular Asian Mukbangers on YouTube eat so much? Here's the inside scoop on how they do it...
Mukbang (eating broadcast) is a show in which the host consumes massive amounts of food while live-streaming it to their viewers. But what happens to all that food?
Mukbang (eating broadcast) is a show in which the host consumes massive amounts of food while live-streaming it to their viewers. These are also referred as as ASMR Mukbang.
ASMR (Autonomous Sensory Meridian Response) mukbang, according to Qustodio, feeds on the trend of streamers capturing noises and sounds that make us "feel" something as we watch - imagine slurps, loud eating, crunching, and all the things that go along with enjoying a nice meal.
ASMR MUKBANGERS ON YOUTUBE
Eat with Boki
Moon Bok-hee of Eat with Boki is a YouTube sensation with over 8 million subscribers. Boki enjoys a wide range of foods, from Korean home cooking to Western cuisine.
Hamzy
Hamzy is one of the OGs of mukbang and is recognized for her amazing cooking talents. Her YouTube channel has 10 million subscribers. Her movies are basic, with her wearing house clothing and without speaking to the camera.
She prepares real Korean cuisine and occasionally orders takeout. Jjajang, Hamzy's black poodle, features in all of her videos. She also has a YouTube channel called Wandering Hamzy.
Zach Choi
This YouTuber from the United States and South Korea has 14 million subscribers. He is said to have had plastic surgery, including two eye surgeries and a nose job. Choi appeared in a drama alongside fellow YouTubers Stephanie Soo and Nicholas Perry, also known as Nikocado Avocado.
Sprite is his favorite drink and his favorite meal is Hot Cheetos. Choi despises pickles, as evidenced by a video in which he attempted to consume them. Choi's videos are well-known for their visual appeal.
Fume
This mukbanger has almost 5 million followers. She has a brief vlog on food at the beginning of her videos. Fume has a white Pomeranian named Mozzi who appears in all of her videos. Fume makes the most of her meals on the channel, and she does a wide range of cooking styles.
Mellawnie
Mellawnie's YouTube channel has slightly more than a million subscribers. In the videos, she does not expose her entire face. She primarily consumes simple things such as cheese balls with hot carbonara ramen or desserts.
Goodzzi
Goodzzi, who has over 300,000 YouTube subscribers, is not as well-known as other YouTubers, but she is still an entertaining mukbanger to watch. She occasionally cooks for herself. Her brother also makes an appearance now and then. Goodzzi has previously ordered takeout to appear in her films.
Nareum
Nareum's YouTube channel has over 2 million subscribers. Her outgoing demeanor and quick eating abilities helped her gain popularity. Her mother or twin sister will occasionally appear as guests on her channel. They join Nareum in finishing the meal. Her twin sister has a cookie bakery in Busan, and the channel occasionally features the cookies.
Ami Ami
Ami Ami's YouTube channel has over a million subscribers. She could eat a lot of food in a short length of time. Ami Ami occasionally streams live on YouTube. She eats everything from Western to Korean cuisine.
MUCKBANG FRAUD EXPOSED!
Muckbangers, on the other hand, have been taught to spit their food out and to edit certain bits out of films so that they don't have to eat all those unhealthy enormous meals all at once.
Furthermore, eating this manner will eventually lead to major health concerns, which we should avoid at all costs.